Journal: In Search of Quiet
I've been enjoying the Labour Day holiday this week, mainly just staying within the Development Zone. I don't really want to travel, because every place of interest is bound to be crowded with tourists. This holiday, and also the National Day holiday in October, are both referred to in newspapers as "Golden Week" (huangjin zhou) because of the stimulus they give to local economy. Actually, when I first visited China on a 6 day tour in 2001, I unintentionally booked during the National Day holiday, and some of the Beijing sights were so packed with people that all my brother and I could do was join the current and let ourselves be slowly dragged along with the crowd.
But I did want to get out of the city for a little while. So a few days ago I took a trip to "Two Dragon Mountain Forest Park". I learnt about this place last summer, when I travelled back from Shenyang to Dalian stopping at random train stations. All the people who I spoke to said that the city of Pulandian was utterly boring, which only made me more determined to visit. Upon arriving, a single glance told me that they had been right, so I headed straight for the only site that piqued my fancy—Two Dragon Mountain (henceforth, Erlongshan). But the park was larger than I imagined, and I only had time to ascend to a small temple overlooking the main gate before having to hurry back to the train station.
At the time, I never thought that I would one day return. But after visiting an over-hyped garden of cherry blossom trees near Dalian (called Longwangtang, "Dragon King Pool") and finding it difficult to commune with nature when the nature in question was blanketed with picnicking families, I finally realised that the one selling point of Pulandian's small and neglected park was that hardly anybody would ever go there. I even managed to persuade Tie Cheng to accompany me on an adventure to one of China's least famous scenic spots.
We set off at 8 o'clock, first catching a bus to nearby Jinzhou, and then a train to Pulandian. The train ride was only about 45 minutes, but plenty of time for me to teach Tie Cheng the game of "eye spy", which we played in english first and then in chinese pinyin. In the square in front of Pulandian train station, there was some kind of talent show under way. The banner behind the stage proclaimed the greatness of the May Fourth spirit (the day happened to be the anniversary of 1919 May Fourth Movement), and urged people to carry on the "mission set by history". But the politics seemed to be confined to the banner, while beneath it a row of women were modelling evening dresses.
Rock, Scizzors, Cloth
If chinese children don't play "eye spy" on long trips, then how do they pass the time? One game they might play is "paper, scizzors, rock", or one of its variations. Called "rock, scizzors, cloth" in China, some versions of this game far exceed the simple rules that I learnt in Australia. In one version, if your hand beats your partner then you have to pretend to slap them (forehand then backhand), yelling "pa! pa!" If your hand loses, then you have to turn your head from side to side as if receiving the slaps, and say "a! a!" And if your hand is the same as your partner, then you have to pretend to kiss them! The game continues, faster and faster, until somebody makes a mistake. I've seen children playing this. But if you stipulate that the loser has to down a glass of alcohol, then it becomes a drinking game.
There's another variation which involves using both hands at once. I don't think I even want to know how that's played!
We had to catch a taxi to Erlongshan. As I had hoped, it was almost deserted. We meandered along the mountain paths, enjoying the sunshine and fresh green spring foliage. Soon we reached "Dragon Mountain Temple". Consisting of a few buildings surrounding a central courtyard, this buddhist temple was much smaller than the one I visited at Gushan, but I liked it more. For one thing, it had actual monks. One monk even instructed us on how to light some incense and kowtow before the buddha, while he struck a gong. Tie Cheng had her fortune told. She had to kneel before Guanyin, the goddess of mercy, and shake a container of bamboo sticks until one fell out. Then the monk looked up the corresponding horoscope in a dog-eared book.
We continued walking until we came to the now-defunct "Forest Hotel", a testimony to the popularity of Erlongshan. Luckily, we had brought a few things to eat, so we found a place to sit and made the best of our light lunch. Afterwards, showing a return to old form, we got lost and walked in a circle. And since Tie Cheng was feeling the lack of her usual afternoon nap, we found a shady place under some trees and laid our heads back (on my backpack) for a rest. It was very peaceful, with a light breeze blowing and no sound except the rustle of leaves.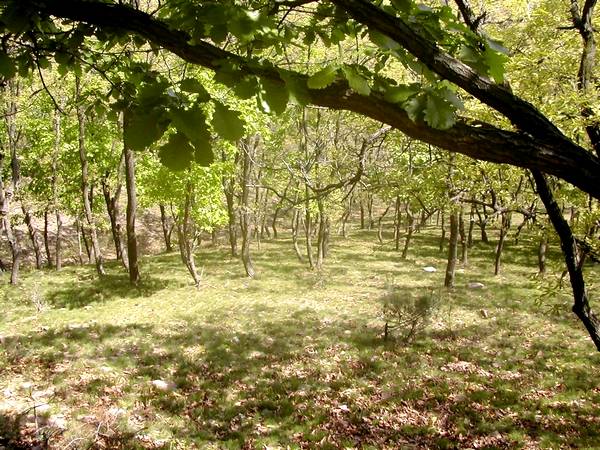 Feeling much refreshed, we headed to the far end of the park, where we found a small lake overlooked by two concrete dragons. There were more people here, including a bride and groom getting their photo taken in a pedal boat. This seems to be a modern chinese wedding custom: hiring a photographer and driving to various scenic places to take happy snaps. Back in the Development Zone, I sometimes see hapless brides sitting uncomfortably on the rocky beach with their gown draped artistically over the pebbles. Another time I was down by the seaside with a Bulgarian friend, and one couple, this time with a video camera trained on them, asked if they could take a few seconds of film with us two foreigners!
How many concrete animals can you spot in this picture?
Tie Cheng thought the lake was too small, but I thought it was just as well or it might have attracted tourists. I was certain that there must be some kind of back way out of the park, so we followed a small path, but we soon found ourselves walking through somebody's farm! And the sole of Tie Cheng's shoe came half unstitched. But we carried on walking through the fields and eventually struck a sealed road, and after a short wait we were able to flag down a taxi.
We made our way back home from Pulandian the same way we came, stopping in Jinzhou for dinner at a Korean restaurant.