Journal: Cooking at 1-3-1
Entrance 1, floor 3, number 1 is the place that I've called home for more than a year, but within two months time I'll be gone. Last time I wrote about my apartment, I had just bought a mop. Since then, most things have become routine, but one thing I seldom did during my first year in China was cook at home.
I had excuses of course: work kept me busy, and eating at the school dining hall was so cheap and convenient that there seemed no reason to cook for myself. But I had regrets too. One of the things I hoped to learn when I came here was how to cook authentic chinese food. Anyway, I like cooking, and one of my most vivid memories from the last place I lived in Australia (it seems so long ago!) is working in the kitchen, the chopping board piled high with sliced fresh vegetables, or the rich smell of curry simmering in the pot. Back then, I used to think I could make chinese dishes too. But even when I tried to cook something as simple as fried rice here in China, all I noticed was how different it was from real chinese fried rice. So I didn't try very often.
Oddly, the biggest meal I cooked was for my family when I went back to Australia during the winter holiday. I wanted to show them some foods that they hadn't tried before, so I made jiaozi, fried cucumber and egg, and fried tofu sheets.
I don't know why, but after I came back from Australia I started to do more cooking. I bought a good iron wok to replace the battered one left by the previous tenant, and I tried to cook some of the simple dishes that I had seen in the dining hall. I didn't have much success at first, and some attempts were so bad that I had to throw them straight in the bin. Although I had cooked before in Australia, some of the fundamentals of chinese cooking still eluded me. I had to get used to different ingredients and seasonings, different cooking methods, and different tricks of the trade—the basic knowledge that I would probably take for granted if I had grown up in a chinese household. An example of a chinese cooking tip: a friend suggested adding a bit of water to fried rice to stop it from getting too dry while frying.
Oil, Salt, Soy Sauce, Vinegar
Phrases consisting of four characters are quite special in chinese. There are a lot of proverbs and fixed expressions which fit this pattern. Even a mere list sounds better to the chinese ear if it numbers four, for example in ancient times a talented person ought to excel in qin qi shu hua: the zither, chess, calligraphy, and painting.
These phrases are particularly common in written chinese, but the tendency towards lists of four sneaks into everyday life too. You yan jiang cu (oil, salt, soy sauce, vinegar) describes a well-equipped kitchen. And when you're leaving the house, don't forget to check men chuang shui dian: doors, windows, water, electricity!
Nowadays I still don't cook every meal, but I cook several times a week. I don't want to make anything fancy since there is only myself to feed, and luckily there are many simple chinese dishes which don't take very long to prepare and even less time to cook. And I have a microwave, so it's easy to heat up left-overs.
I would like to introduce some non-chinese dishes to my friends, but most are ruled out because I can't find the right ingredients and because I don't have an oven. Ovens are not very common in chinese kitchens. I could buy one, but it gives me greater pleasure to adapt recipes to local conditions. I managed to make some very nice garlic and herb bread by putting slices of bread on a skewer and toasting them over an empty pan on the stove (probably not good for the pan, but it was an old one that I never use). This was to accompany spaghetti, which I was lucky enough to find in my local supermarket. The secret ingredient in my pasta sauce was fresh basil and oregano—I grew them on my windowsill from seeds brought back from Australia.
I get cooking tips from my friends, and from recipes on the internet. I still can't cook a good bowl of beef noodles, though. But all in good time—as the chinese saying goes, "[even] an impatient heart can't eat hot tofu".
Chicken-Scratched Tofu Covered Rice
Gaifan (covered rice) is simply a fried dish atop a bed of rice. Here is one easy but tasty topping, and you don't even need a chicken. Following the usual convention in chinese recipes, I have listed the main ingredients and seasonings separately.
Serves 1
Main ingredients:
300g fresh tofu, cut into 1cm cubes
1 egg, beaten
1 spring onion, finely chopped
a plate of hot cooked rice
Seasonings:
1 tablespoon peanut or vegetable oil
1 tablespoon soy sauce
1 teaspoon sugar
1/2 teaspoon seasame oil
mayou (pepper oil) or ground pepper, to taste
Method:
Fry the tofu cubes in oil over high heat for about 2 minutes.
Add the egg, spring onion, and other seasonings.
Add 1–2 tablespoons of water, so there is some liquid to soak into the rice.
Over a low heat, mix the ingredients together and mash the tofu (so it looks like a chicken has scrached it!).
Transfer the mixture onto the bed of rice.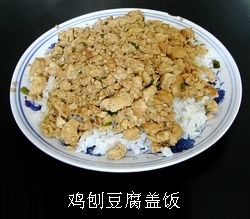 ...from our test kitchen at 1-3-1
Toddles, perhaps when you return to get married and have kids you could establish your third career as a chef in an up-market (up-market seems to be a niche not yet occupied so you'd probably do well) Chinese restaurant...
Geoff
30.11.2004 , 15:22
Fourth, dear. I still consider teaching a career, even though it was a short and mistaken one.
Todd
30.11.2004 , 19:43
Comments disabled. Sorry for any inconvenience.