Journal: A Typical Atypical Week
Attending school is every child's right, sending one's sons and daughters to school is every parent's duty, and allowing children to attend school and study is the responsibility of our whole society. In our village, it is impossible or very difficult for children to attend school, and because of this parents fret and worry. The leaders of the newly established Xiwang Village were also anxious about this. Therefore, in accordance with the state of affairs in the village and the views of the village residents, Xiwang Village Committee consulted together and established a School Construction Planning Committee, with the aim of constructing a school in the village. Below, we submit the plan for this project to Sanchuan Development Assocation. We hope Sanchuan Development Association, from our home town, can grant us their support and help us to realise our dream.
— from a project proposal sent to SDA by Xiwang Village
There are certainly many quiet, or at least reasonably quiet days at SDA, but it's foolish to count them before they hatch (so to speak). As for the not-so-quiet days, they sometimes come thick and fast. So although last week was not a typical week, as an atypical week it was more-or-less representative!
On Sunday I was in Guanting, expecting Mr Zhu to join me soon, but he called and said that he wouldn't be able to come. So I planned to stay one more day and the catch the bus back to Xining. Then at 10pm that night Mr Zhu suddenly called again, to say that he would be coming the next day after all, and bringing seven Australian visitors with him!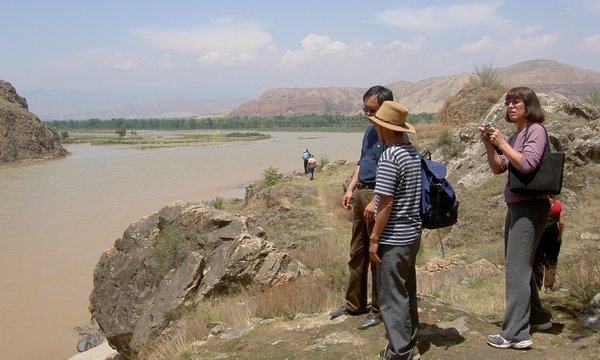 Visiting the Yellow River. Spot the Akubra hat!
As it turns out, these seven visitors, all aged over 60, were touring through western China under arrangements made by a certain Mr Ronald Li who will appear later in this story. We welcomed them with hada scarves and three cups of alcohol, in the traditional manner, and then took them to view some projects and some other sights in the area. The first day's dinner and the second day's lunch were in village homes. Our guests later said that the friendliness and hospitality of the local people had made a deep impression on them, but I also noticed that our visitors themselves were just the kind of guests that one might wish for: polite, grateful, and enthusiastic. They even gave us a choral rendition of "Waltzing Matilda"! And although most of them couldn't speak chinese, they were still friendly and respectful to everyone they met.
I couldn't help thinking of a newspaper article that I recently read about an English fellow living in China who one morning approached a guard on duty at his apartment block and managed to communicate in broken chinese that he wanted the guard to go and buy some hamburgers for him. Delivering takeaways to lazy residents is not within the job description of a security guard, but the guard kindly agreed to do it. However, he though that KFC and MacDonalds would be closed at that time in the morning and recommended Yangzhou fried rice instead. The Englishman nodded his head, and the guard took it as a sign of agreement. But when he came back with the fried rice, the Englishman flew into a rage and hurled the rice all over the guard. What I see in this story is a westerner with so little respect for this chinese guard that he treats him like a servant, and sadly I really have encountered foreigners in China who view the local people as unworthy of respect. But fortunately, such people are seldom the guests of SDA.
By the time Mr Zhu and I got back to Xining the next day, we only had a couple of hours to pack our bags and have dinner before we had to catch an overnight train to Delingha in the west of the province. As the sun came up the next morning, I caught my first glimpse of Haixi Prefecture's unique landscape from the window of the train. In the dim light of dawn, the flat barren land looked almost lunar. I saw a lonely grey speck in the distance, and as the train approached it grew into an alien-looking factory. On the horizon, rocky mountains rose up suddenly from the flat desert. But around Delingha, irrigation systems feeding from Bayin River have made farming possible. Delingha is not open to foreigners yet, so we had to apply for a travel permit for me to visit there.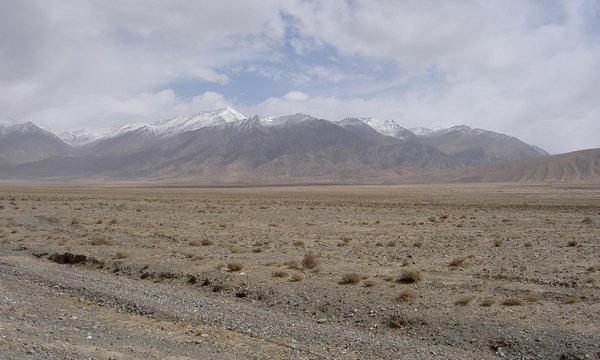 Somewhere between Delingha and Golmud.
We had arranged to meet with Canada Fund coordinator Cindy Tan to visit Xiwang Village, the site of a proposed primary school construction project. As is typical, when we arrived at the village it seemed like the whole population had turned out to welcome us, with firecrackers and chanting daoists and columns of children clapping and shouting "warm welcome!"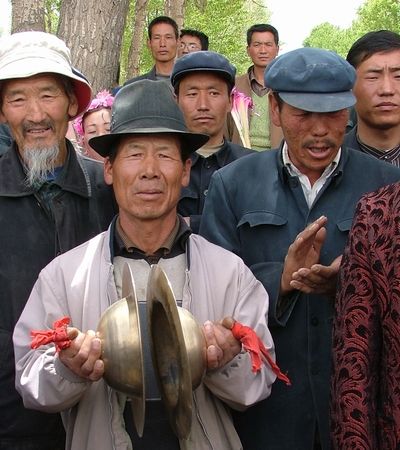 After our work at the village was finished, our friend Mr La (a member of SDA) took us all to have dinner at a restaurant outside town where the meal is served inside a ger (a large Mongolian tent). The offering of alcohol and singing of songs began there and continued back to Mr La's apartment, where Cindy and I tried to think of an English song we could perform together and, scraping the bottom of the barrel, finally settled on The Hokey Pokey (with actions of course).
Mr Zhu and Mr La singing. Mr La has a plate with two cups of alcohol in his hand, ready to offer around after the song.
The next day we drove to Golmud to show Cindy another proposed school project. This time there was no opportunity for a casual dinner, because Mr Zhu and I had to catch another overnight train back to Xining to meet with Ronald Li from the Kadoorie Foundation. We drove with him to Sanchuan to visit some projects which Kadoorie funded a few years ago, and the following morning he met with the key members of SDA for a few hours of discussion.
The preschool class at the school near Golmud.
So basically, it was a busy week, and what did I get out of it? Firstly, lots of new ideas from speaking with our various visitors. Secondly, a headache from having alcohol forced on me almost every day. And thirdly, a sheep head given to me by Mr Ka from the Delingha Education Bureau:
Man - that newspaper article just reminds me of everything I hated about expats when I was in China.
It sounds like you're having an incredible experience there. (And I do use "incredible experience" instead of, e.g., "great time" -- I know there's a difference. I don't think I could do the non-urban thing again.) How much longer will you be there? I'm planning on being back in China as of late September/early October, and if you'll be in Beijing, I'd love to meet up.
Brendan [homepage]
02.06.2005 , 18:07
Only the gods know exactly how long I'll be here, but my current estimate is until the end of the year or thereabouts. A visit to Beijing is also somewhere on my Calendar of Vagueness. So...keep in touch. Will you be coming back to study in China, or what? Have you perhaps been secretly practising cross-talk in your spare time?
Todd
02.06.2005 , 21:03
The plan is to go back to Beijing and find a job as a translator. Keeping my fingers crossed on that one. I'm not really interested in more school just yet -- a couple years down the road, maybe.

And no, I haven't been practicing crosstalk; I've been perfecting the anti-crosstalk. I'll get on the microphone, drop that bomb, and kick Dashan's ass so hard that xiangsheng will never have existed.
Brendan [homepage]
05.06.2005 , 02:33
Todd,
Many thanks for your kind remarks about our gang of seven. We were all in awe of what you are doing. As I said in my toast to you over lunch, we have a great Embassy in Beijing, with some really good people (including my colleague and friend from the time of my own posting in Tokyo)but those people generally don't have the opportunity to engage at grassroots level as you do. It is a nice feeling to be passing the baton on to a generation with genuine passion and idealism. Peter Downie.
Peter Downie
17.06.2005 , 08:53
Comments disabled. Sorry for any inconvenience.