Lifelog: Another New Beginning
Going abroad has always been fashionable in some circles as a way to "find yourself". Personally, I never had any such grand (nor such vague) expectations when I came to China. There was one thing I was hoping to find, though: a job that I was passionate about. Six and a half years later, I'm still looking.
In Australia I was a computer programmer; it happened without me really trying. I started dabbling in BASIC on a Commodore 64 when I was a child, and grew up programming as a hobby. At the end of high school, I made a reasoned decision based on my talents and interests, and took a degree in computer science. My first full-time job as a maintenance programmer was pleasant and stress-free, but with just enough scope to challenge myself.
Yet after two years in that job, I started to question whether this was really the kind of work I wanted to do for the rest of my life. Perhaps it was mainly the stereotype of computer programmers as socially handicapped that I was reacting to, but I really felt there was a lack of human interaction in my work, and worried that it was unhealthy. I began to wonder if I had any "hidden talents" beyond computer programming.
Teaching English as a foreign language, by contrast, seemed just about the most exciting career I could imagine. It was creative, human-centred, and offered job opportunities in just about every country in the world, as well as Australia. Everyone said that the first few years of teaching are the hardest, but I noted with some relief that foreign teachers in China usually had only 12–16 classroom hours per week — less than in Australia, and perfect (thought I) for building up some experience.
So I gave it a go. And it was hard, for a lot of reasons that mainly have to do with my character. In the hope that it was going to get easier soon, I stuck at it for three semesters. I didn't do such bad job either, but in the end I'd had enough "human interaction" in that short period to make up for all those years at home, school and work languishing in front of a computer terminal, and then some, and I couldn't face the prospect of stepping into a classroom ever again!
Fortunately, I already had in mind the next "ideal job": development work. Like teaching, it was not just the job but also the chance to broaden my mind that attracted me, an opportunity to contribute something to society and at the same time see the "other China" — village life. I managed to find a job as a volunteer at a rural NGO, and I'm glad to say that it lived up to my expectations. In hindsight I didn't really do very much, but the year-and-a-half I spent there certainly fanned the flames of my interest in non-profit work.
And so in 2006 I arrived in Beijing with the hope of furthering my new career. But as folk singer Zhou Yunpeng warns, "In Beijing, a city that never sleeps, dreams become merely day-dreams". After a couple of months I almost gave up, but in the end I guess I was luckier than most (after all, fortune still smiles upon we occidentals in China). Becoming programme coordinator for the CHAIN/Healthlink Worldwide partnership and the editor of "AIDS Action - China Edition" was — to cut a long story short — a monumental fluke.
Being invited to develop a database for AngloGold Ashanti was perhaps even more lucky, because although I might be better qualified, I wasn't actually looking for that kind of work. At the time I was for all intents and purposes unemployed, and living in Li Qingtao and Yu Ting's spare room, so I took the job gladly. But a few months later, with the database nearing completion, my attitude was quite different. My new job at CHAIN represented the direction I wanted to go in. On the other hand, I could see the wisdom of keeping my options open, and anyway somebody had to take responsibility for maintaining all the code I had written! As it turned out, the feeling was mutual, and that's how I came to work for AngloGold part-time, one day a week.
Despite my mixed feelings, AngloGold actually provided something of a refuge from the stresses of my work at CHAIN. Once a week I could visit a comfortable office, do something I was good at, and even be praised for my work. At CHAIN, on the other hand, there was always pressure to do more, faster, better. To be sure, that's partly the nature of NGO work — you are literally trying to change the world, yet with virtually no resources at your disposal. Burn-out is not uncommon. But on the other hand, editing a magazine in my second language, on a specialized topic, all the while trying to find new sources of funding to support the project is obviously a significant challenge in itself.
Ultimately, I'm very satisfied with what "AIDS Action - China Edition" achieved. Nor do I regret the blood, sweat and tears I put into it. But when the project finally ended this year due to lack of funding, it gave me a timely opportunity to reassess my career. In fact, it prompted me to reassess my values in general and realize that, despite my good intentions, pursuing these lofty goals wasn't actually doing anybody a favour — least of all myself.
As interested as I am in social issues, NGO work never brought me the same kind of enjoyment as computer programming. For the past six years I've had a good run, seen what was on offer, but in the end programming turns out to be the best deal after all. And the best part of that deal is that I've negotiated with AngloGold to work an extra day a week, giving me a modest income that satisfies my present needs, and leaving three working days per week completely free to do as I wish. What I wish to do, of course, is more programming (or did you think I was going to lie on the couch watching Chinese soap operas all day?). I'm already working on a volunteer project, and I'm also advertising myself as an independent contractor, under the business name "Technology for Change". I hope to combine my interests in software development and social development, by targeting my services to non-profit organizations in China. That just might really be my "ideal job". But even if my business doesn't succeed, it's good to know that I'll still have a roof over my head and rice in my bowl, thanks to AngloGold.
As if to make this new beginning complete, Yuxiang and I have also moved into a new apartment on the other side of town. By coincidence, it's not too far from the first place we lived in Beijing. Likewise, having already come full-circle once in my career, I'm a little worried now that in a couple of years I'll get tired of computer programming again and start looking for another new calling! But if a glance back at my time in China tells me anything, it's that having your whole career planned out in advance is not nearly as important as having confidence in what you do...and a bit of luck.
News since my last lifelog:
We watched two events in last year's Paralympics (but none in the Olympics itself).
At Christmas, we visited my family in Perth and Sydney.
Then, after only a week back in Beijing, we flew to Qinghai to celebrate Spring Festival with Yuxiang's family.
We learnt to play the game "Mafia" with a friend from work.
I put up a website for my business, and also started a blog called China Nonprofit Technology News.
I turned thirty this year.
Where are they living now?
We chose this area because it's at the intersection of Beijing's two newest subway lines, No. 5 and No. 10. Here's a photo taken from outside the subway station. Ours is the long blue-green building in the centre of the photo — the one that doesn't look like a giant robot:
Notice the vacant block in the photo; until quite recently that was the location of the China Aviation Industry Research Centre. The apartments around it, including ours, were built by this organization for its employees (very typical, especially a decade or two ago). It must be quite a venerable "work unit", because most of the residents in our building are already retired. A few weeks ago I saw an announcement posted on the community notice board regarding a former head of department at the Research Centre — an announcement of his funeral, actually.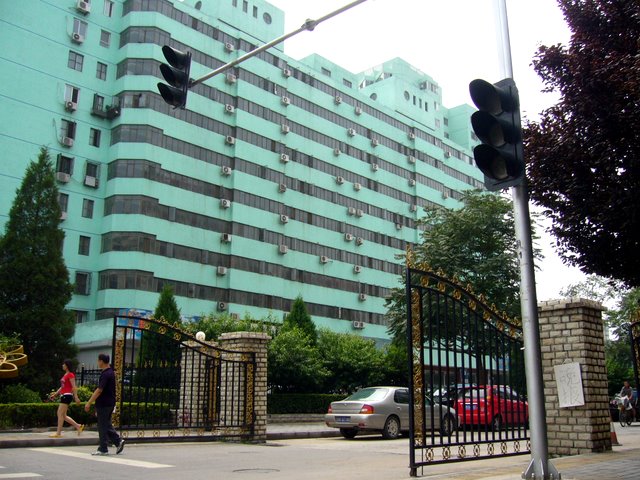 Our previous apartment had only one bedroom. This one has two, in addition to a well-sized lounge room (large enough for a massive wardrobe, which doesn't fit in the bedroom):
We wanted the addition room so that we could offer a bed to any friends or family that might visit us here, and also to serve as an office since both of us may be doing a lot of work and/or study at home this year. Here's an honest photo, complete with some boxes from the move which we still haven't unpacked: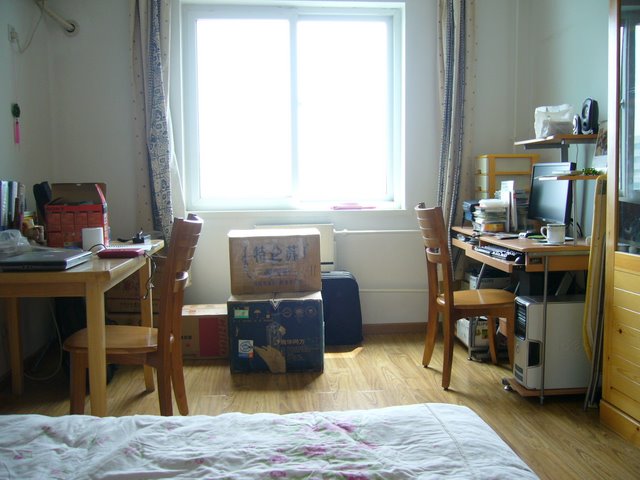 We're on the ninth floor. There's an elevator, of course, but something we didn't learn until after signing the lease was that it stops at midnight! The view from our window is not too bad, and so I'm in no hurry to see construction start on that vacant block, although it's bound to happen sooner or later: